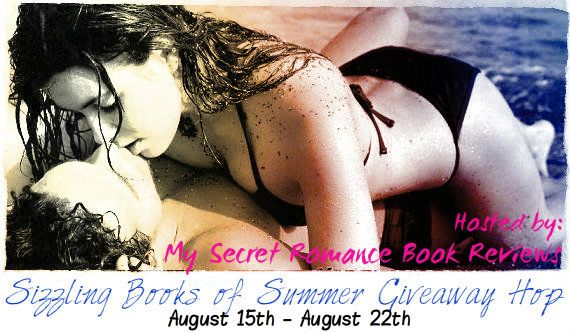 Welcome to another Summer Giveaway! Summer is ending, and since I'm sure you are as sad about that as I am, I will be giving away an e- book that made me sizzle.
Grab some sun tan lotion, sun glasses, bathing suit and a yummy drink, this hop is sure to be a hot one!
The books that made me sizzle this summer include:
Her Best Worst Mistake by Sarah Mayberry
For six years Violet Sutcliffe has known that Martin St Clair is the wrong man for her best friend. He's stuffy, old before his time, conservative. He drives Violet nuts - and the feeling is entirely mutual. Then, out of nowhere, her friend walks out just weeks before her wedding to Martin, flying to Australia on a mission of self-discovery. Back in London, Violet finds herself feeling sorry for suddenly-single Martin. At least, she tells herself it's pity she feels. Then he comes calling one dark, stormy night and they discover that beneath their mutual dislike there lies a fiery sexual chemistry.
It's crazy and all-consuming - and utterly wrong. Because not only are they chalk and cheese, oil and water, but Martin once belonged to her best friend. A friend Violet is terrified of losing. What future can there be for a relationship with so many strikes against it? (taken from www.sarahmayberry.com)
About Last Night by Ruthie Knox
Cath Talarico knows a mistake when she makes it, and God knows she's made her share. So many, in fact, that this Chicago girl knows London is her last, best shot at starting over. But bad habits are hard to break, and soon Cath finds herself back where she has vowed never to go . . . in the bed of a man who is all kinds of wrong: too rich, too classy, too uptight for a free-spirited troublemaker like her.
Nev Chamberlain feels trapped and miserable in his family's banking empire. But beneath his pinstripes is an artist and bohemian struggling to break free and lose control. Mary Catherine — even her name turns him on — with her tattoos, her secrets, and her gamine, sex-starved body, unleashes all kinds of fantasies.
When blue blood mixes with bad blood, can a couple that is definitely wrong for each other ever be perfectly right? And with a little luck and a lot of love, can they make last night last a lifetime? (taken from www.ruthieknox.com)
To help you cool off with these SIZZLING reads, why not make a drink? This drink included Peach Schnapps, in honor of Martin St. Clair. If it wasn't for the Schnapps, they wouldn't have gotten together!
White Sangria
Ingredients
4 oranges, sliced into rounds
2 mangos, peeled and sliced
4 bottles of dry white wine, chilled
1 liter ginger ale, chilled
1. In a pitcher, combine peach schnapps, cognac, sugar, sliced oranges and sliced mangos. Chill for at least an hour.
2. Pur fruit mixture into a large punch bowl. Stir in white wine and ginger ale.
Choose which book y
ou would like to win and tell me why in the comment section below. Make sure you also enter again through the Rafflecopter below.
a Rafflecopter giveaway